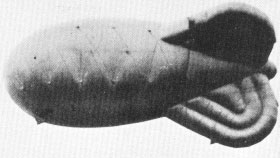 Click for Site Directory
The Tragedy of 933 Barrage Balloon Squadron at Gosport 12th August 1940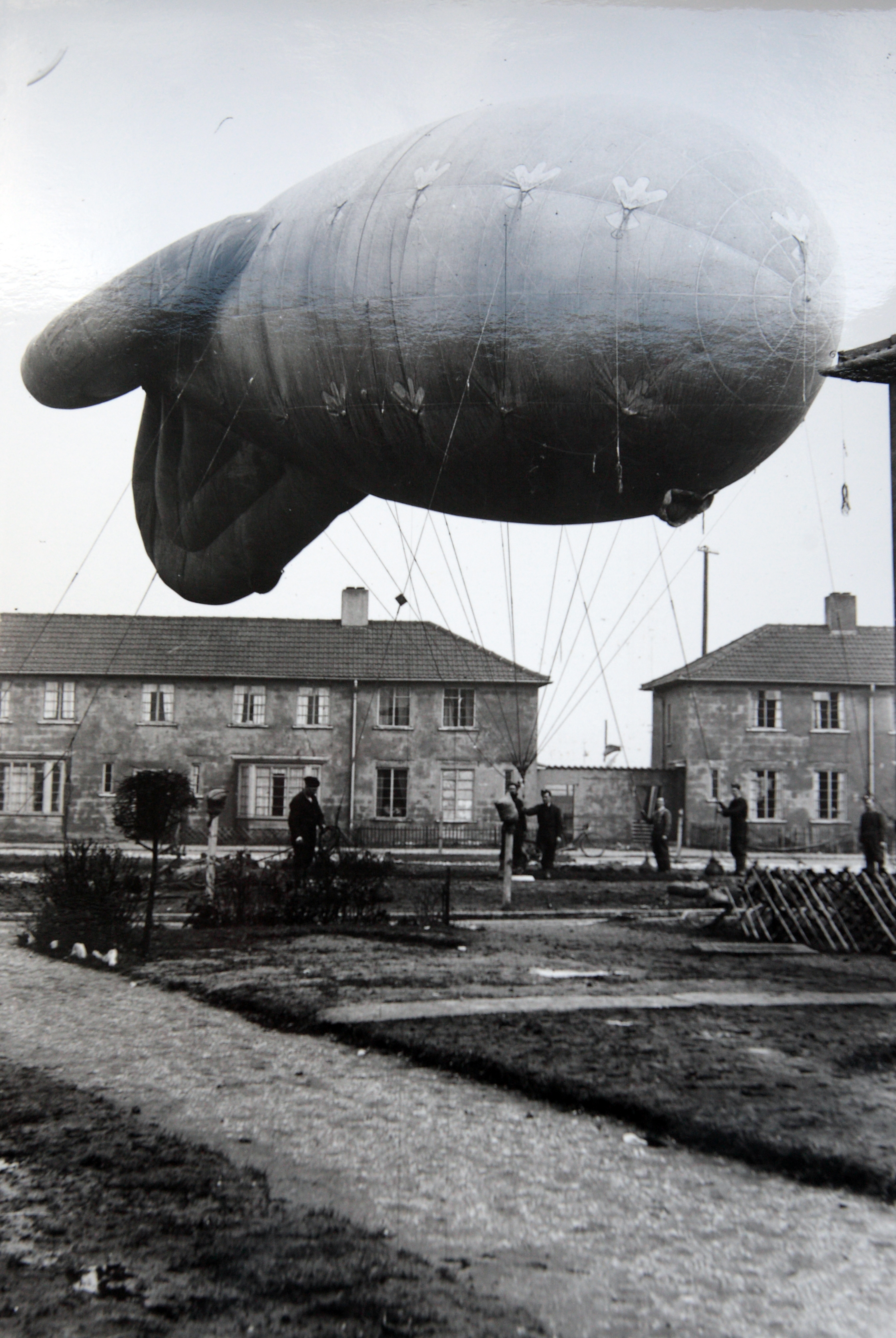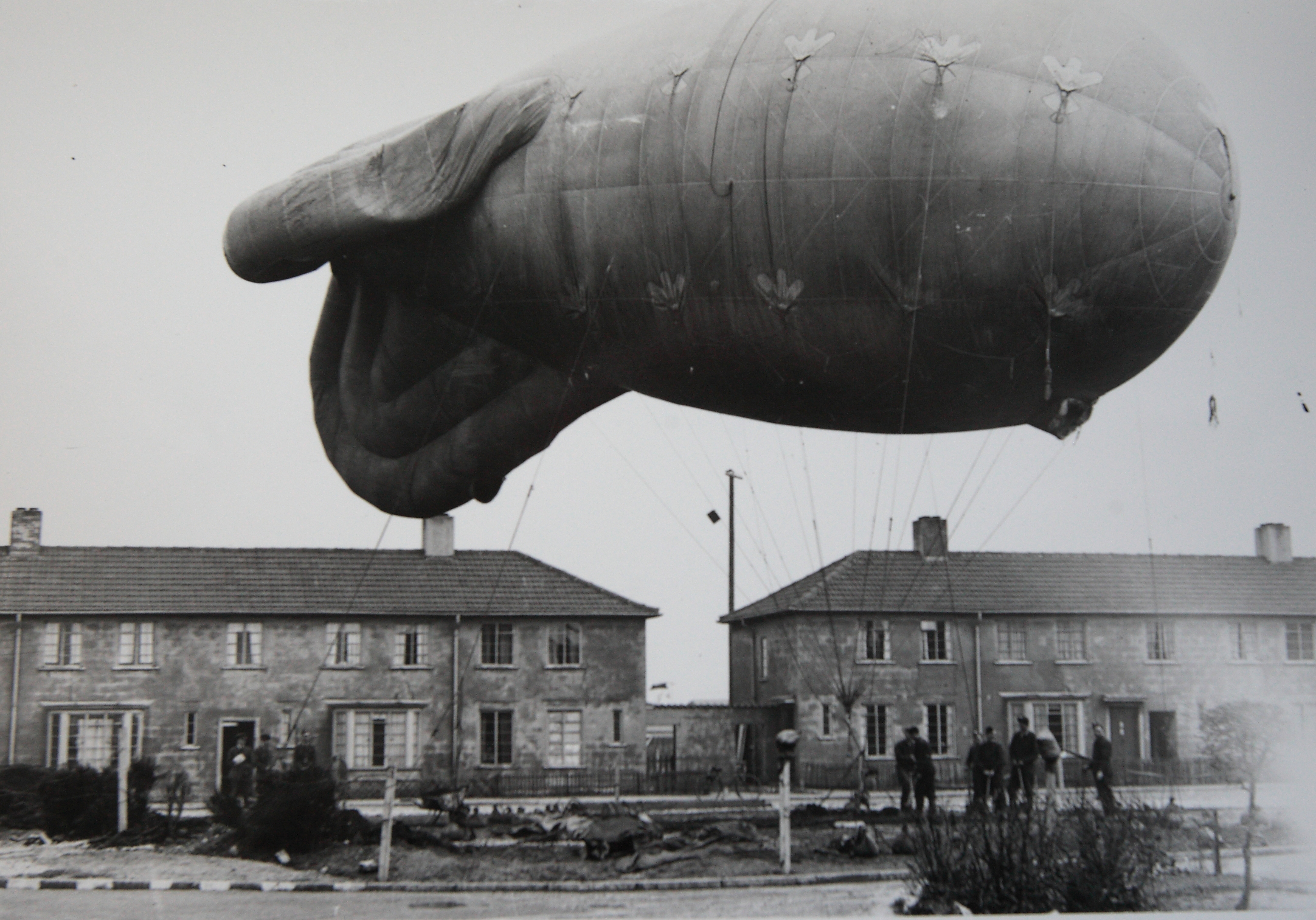 Gosport 1940: Balloons of 933 Squadron close hauled ready for action.
On the 12th August 1940 the first daylight raid was carried out by the Luftwaffe over Britain. The aircraft were Junkers 87s
and "Stuka" dive bombers that were heavily escorted by German fighters and flew over Gosport. Several hundred aircraft
took part in the raid. At 1151 hours, a raid of 150+ aircraft was plotted 30 miles north of Cherbourg. This raid split into
a number of smaller raids which approached on a wide front.
Some reached Portsmouth and Southampton where damage was done. The Luftwaffe Unit I/StG 3 attacked Gosport.
St. Vincent Sports Ground had a barrage balloon site situated on it. This was manned by 933 Barrage Balloon
Squadron, as part of the anti-aircraft defence of the town, controlled by fighter command. The balloon site was at
Forton Road, alongside the Gosport to Fareham railway line.
It is likely that the railway line gave the German pilots an ideal visual line to follow and drop their bombs.
This was a huge loss of life of serving men and civilians and brought home to everyone in Gosport the shocking
reality that the Germans were intent on total war with our country.
The casualty list was:
BARRELL, Arthur Reginald Owen, 864073 Corporal, 933 B.B. Squadron, age 33.
32 Shaftesbury-avenue, Purbrook, Hampshire, husband of Rosina Jane Barrell.
CHILCOTT, Charles Henry , 654152 Leading Aircraftsman, 930 B.B. Squadron, age 20.
He was born in 1919 in Devon the son of Harry Harris Chilcott and Florence Chilcott (Nee Philp), of Cheriton Fitzpaine, Devon.
CROKER, Sidney Albert Edward, 864272 Corporal, 933 B.B. Squadron, age 39.
GRANT, Albert Edward, 861990 Aircraftsman 1st class, 930 B.B. Squadron, age 42.
51a London Road, Southampton. Husband of Ada Ethel Grant and son of John Edward Grant and Elizabeth Grant
HALE Harold William, 954410 Aircraftsman 2nd class, 930 B.B. Squadron, age 21.
Son of Thomas G. Hale and Amelia Hale, of Basingstoke.
HILL, Ronald Fergus, 956396 Aircraftsman 2nd class, all of 930 B.B. Squadron, age 21.
Son of William and Eleanor M. Hill of Northfield, Birmingham.
HOLLISTER, Reginald Walter, 511553 Corporal, 912 B.B. Squadron, age 29.
McELREA, Gerald, 548268 Leading Aircraftman, 930 B.B. Squadron, age 19.
Son of Sarah McElrea, of Antrim, Northern Ireland.
REED, Harry, 630523 Aircraftsman 1st class, 930 B.B. Squadron, age 19.
Son of Harry and Edith Reed, of Lea Hall, Birmingham.
SMITH, Alex James, 743463 Aircraftsman 1st class, 930 B.B. Squadron, age 26
Son of William Alderman Smith and Annie Elizebeth Smith, of Woodston.
All except A/C1 A.J. Smith (originally buried there but exhumed and re-interred at his home town) are buried at Ann's Hill
Cemetery, Gosport in the War Graves Section.
At the time of the raid two civilian grounds men, Mr Herbert William Gadsby age 64 and Mr Charles James Hastings age 44,
who were working on the sportsfield ran for shelter with the airmen. They were also killed, they are also buried at Ann's
Hill Cemetery.
One of the two airmen who survived the attack, then A/C2 A.W. Kemp, recalled the events of that day at the Remembrance
Service held at Ann's Hill Cemetery on the corresponding date 57 years later in 1998:
"The day was fine one with plenty of sun and we were out most of the time, drilling and getting used to our webbing
equipment. The powers that be had decided that we were to be trained as much as possible for a line of defence
should the German army invade. It was tiring but well worth while as we got used to our rifles and equipment very
quickly. Just before midday, we had two corporals who were instructors to help us with our training.
They had been with us only a short while when the red alert was sounded, as the sirens blared out. This usually
happened well before a raid, but this time it was almost immediately that the guns opened up and we could hear
the noise of the planes diving. Our NCO quickly ordered us all to retire to our air raid shelter. After a short while
Frank Offord and I decided to go outside and find out what all the noise was about. We went around the back
of the shelter into a slit trench, which was about 4 foot deep. The noise was deafening; we saw a parachute
come down and then another - it was very exciting to watch at the time because it all seemed so far away. Frank
and I spotted the Hun planes coming from the back of the site and one was dive
bombing. The next thing I remember was a terrific explosion and we both lost consciousness. We must have been
out for quite a while because as I came to Frank was shouting "I'm drowning!" I could see he was up to his waist in
soil, his face was covered in blood, his nose was bleeding and he was in great pain. All this of course had also
happened to me, and I felt terrible. We managed to struggle out of the trench and Frank said we'd better get
to the sick bay as soon as we could. As we stood up ready to go, we looked at the shelter in front of us and all
we could see was a great big hole. I said to Frank "We'd better get help quickly as the others may be buried and
badly injured". As we passed the balloon winch we saw it was on fire, and the house opposite had been hit. When
we entered the Naval sick bay they had their hands full as there were casualties everywhere, and all they could
do for us was to bathe out wounds and tell us that our centre at Titchfield was coming to collect us. We told
them about the air raid shelter and they sent someone to investigate. Meanwhile the air raid sirens started
again and we were sent to the air raid shelter were we saw civilians from the row of houses on the
edge of the site. The mums did their best to comfort us, because they realised there was no hope for the
rest of our crew. We were in so much pain; all we wanted was treatment to ease it. Eventually our R.A.F.
ambulance turned up and took us to Titchfield where we were given drugs and treatment.
When they had made us more comfortable we were sent off on sick leave, after which Frank and I separated
and we went to different sites until Frank and I re-mustered to a different trade and went overseas till the
end of the war."
The bombs dropped also killed Mrs Charlotte Matilda Mogg, the wife of Charles, aged 55, was in her home at
No. 30 The Crossways, Forton, Gosport.
She was killed during the bombing and strafing runs of the dive bombing aircraft. One of the first civilians
to be listed as 'killed by enemy action'. Mrs Charlotte Matilda Mogg, was buried on Friday 16th August 1940.
Mrs Amy Utting, was at her home No. 131 Queens Road, Gosport. The wife of James, and 55 years of age,
she was taking shelter during the heavy raid.
It is most probable, that the aircraft that dropped the large calibre bomb on the barrage balloon site was
responsible for dropping the bomb, which demolished No. 131 Queens Road, and crushed Mrs Utting.
Her body was recovered during the evening; she had been killed instantly in the initial explosion.
Mrs Amy Utting, was buried on Friday 16th August 1940.
Engine Room Artificer Apprentice Godfrey Richard Moreton, Royal Navy, was the son of Godfrey
Stewart and Clara Ruth Moreton of No.31, Heaton Road,
Gosport, who was a boy artificer in the Royal Navy, aged 17. He was killed when exploding incendiary
bombs, set alight and gutted Portsmouth Harbour ailway station. In the attempt to get the blaze under control,
and to move two trains by the platforms, Sailors based at Portsmouth Dockyard were drafted in to help. It was
whilst engaged in these duties that E.R.A. Moreton was killed. He was buried on Monday 19th August 1940, he
was originally laid to rest in the War Graves Section, but was re-interred in 1941, Plot 47 Space 9, he is
commemorated by a Family Memorial headstone.
At the site there is a metal plaque that commemorates the lives of those who died, it is in poor condition.
As a result the Balloon Barrage Reunion Club has commissioned a new plaque to be erected on the site in
the near future. Once it is in place a further announcement will be made with photographs of the plaque.
Thanks to Ian Jefferey of www.gosport.info for help with the above information.
Charles Henry Chilcott who was killed in this raid was survived by his brother, Sergeant (Air Gunner)
1303121 Fernley Graham Chilcott who joined the Royal Air Force and was posted to 10 Squadron where he
became a rear gunner. Sadly he was killed at the age 0f 22, on the 27th September 1943. He is buried in the
Reichswald Forest War Cemetery. The family must have suffered dreadfully to have lost two sons in the war.
I am indebted to Len Kinley of www.downmemorylane.me.uk/ who was able to secure some pictures of
McElerea, Gerald, 548268 Leading Aircraftman and the crew who were killed.
These are copyrighted and must not be copied or used elsewhere without permission.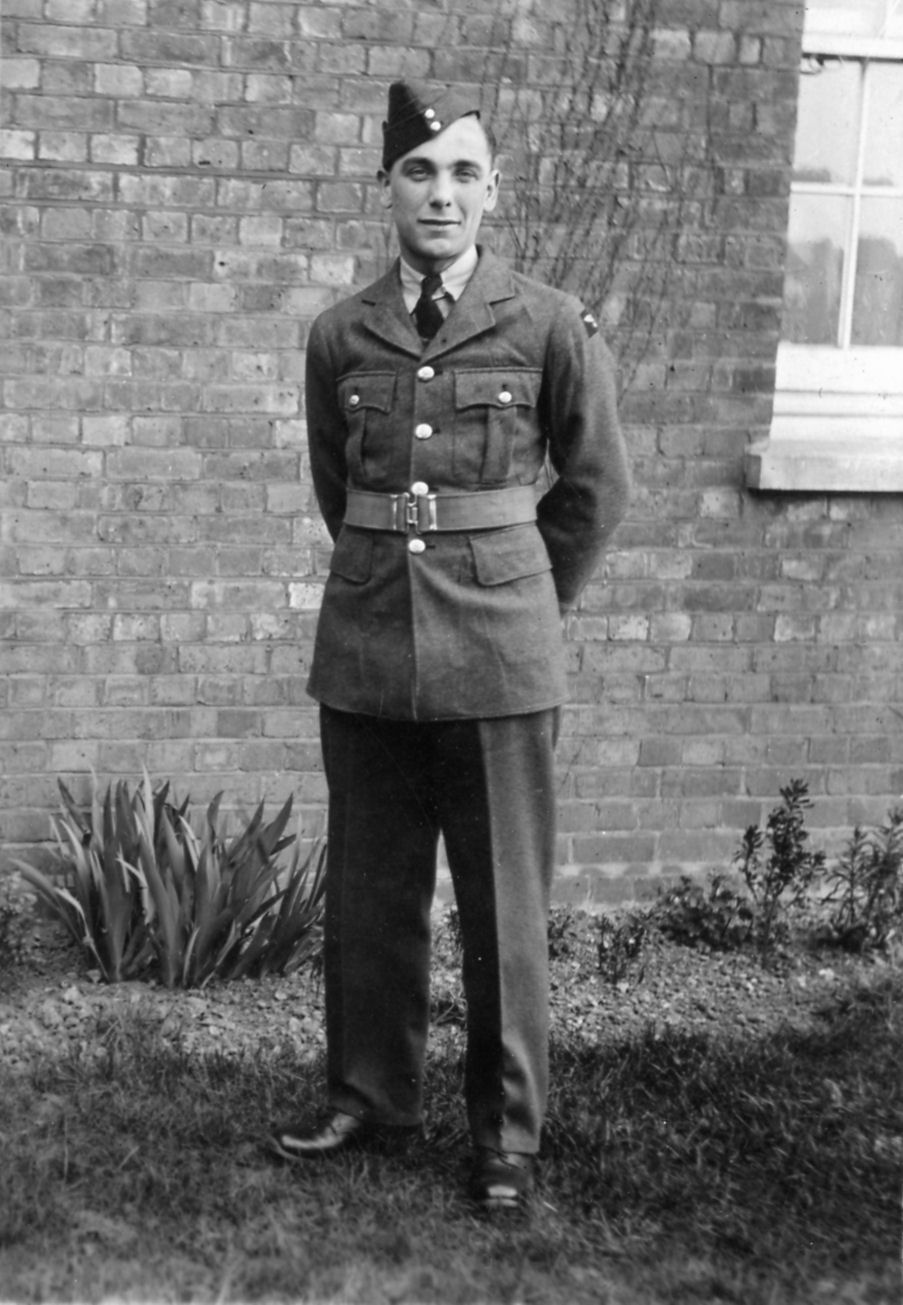 McElerea, Gerald, 548268 Leading Aircraftman (copyrighted)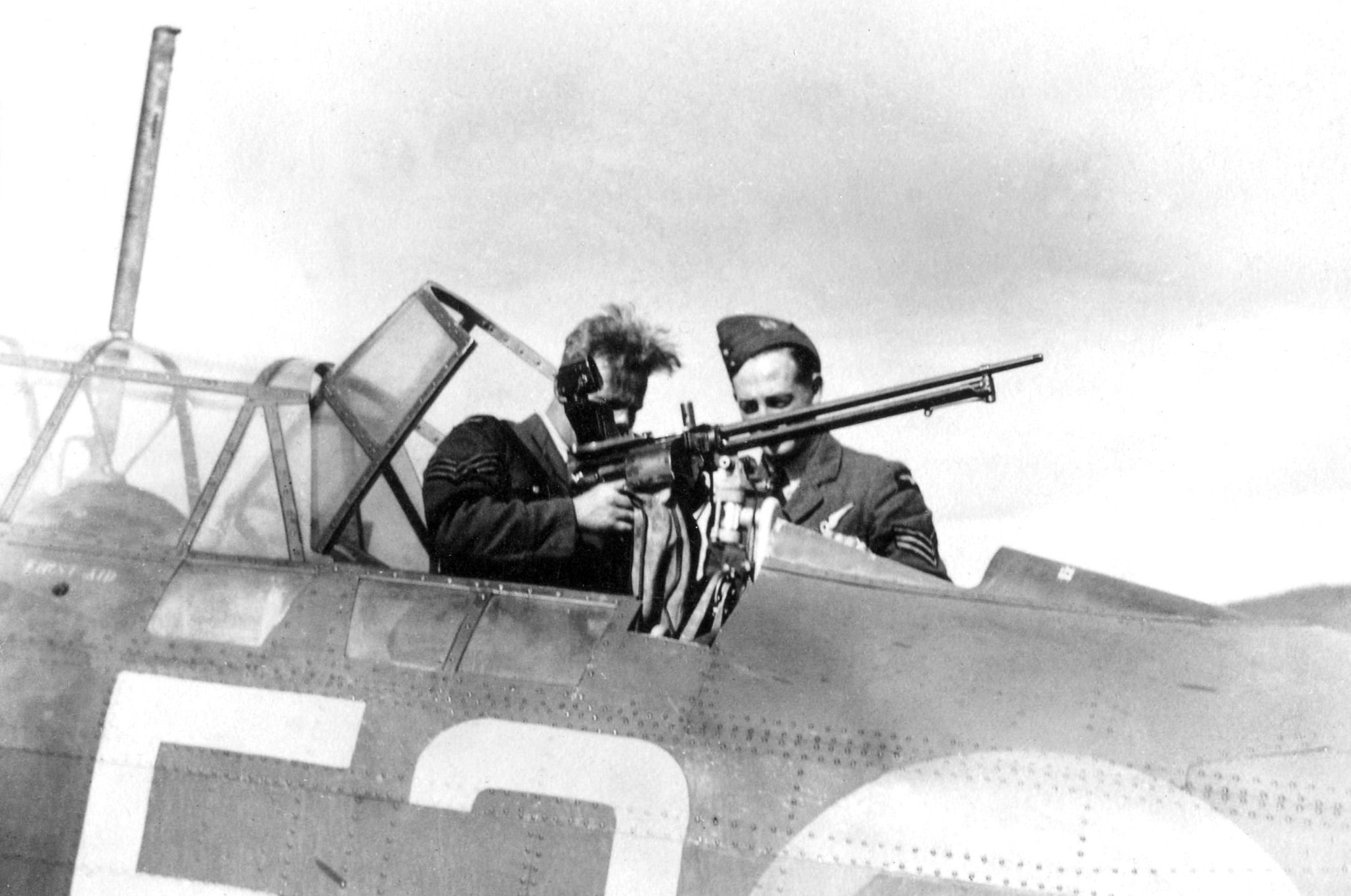 McElerea, Gerald, 548268 Leading Aircraftman (copyrighted)
Seen here being instructed on a gunnery course in a Fairey Battle plane in 1939 is Gerald McElrea, who sadly lost
his life the following year.
This aircraft was developed as a light bomber, but in the early stages of the war its losses were so heavy
it was withdrawn from front line service and used as a gunnery trainer.
This was at Aldergrove who was host to No.3 Bombing and Gunnery school from December 1939 to July 1940.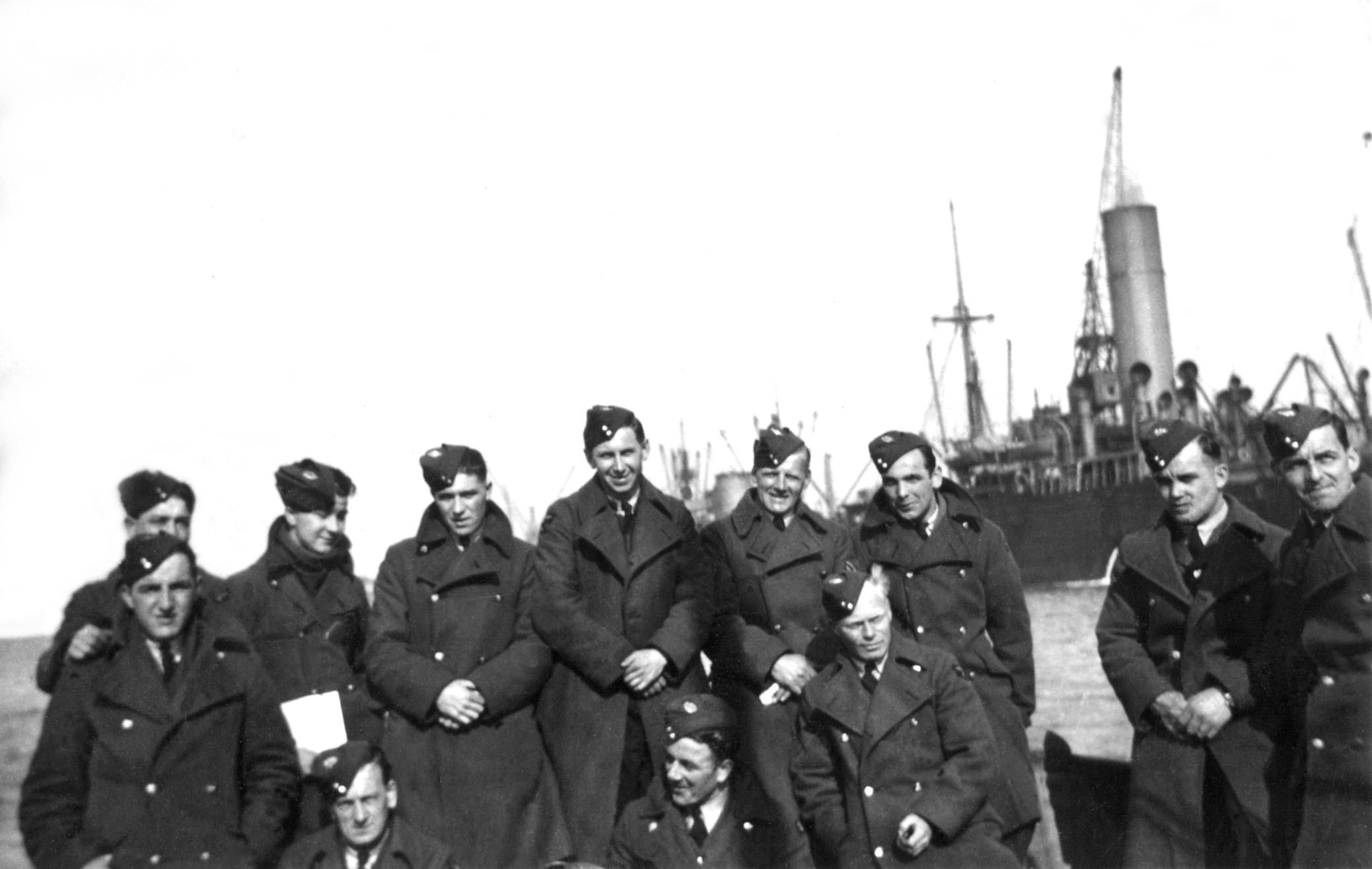 McElerea, Gerald, 548268 Leading Aircraftman (copyrighted)
This distinguished group of young men were members of the Royal Air Force, and they were pictured in Portsmouth in 1939 shortly after the start of the Second World War.
Keen-eyed local people might recognise Antrim man Gerald McElrea standing third from the right. Tragically, all these men - including the man taking the picture - died the following year.
There was a massive air raid that fateful night and though they were off-duty at the time, the
Squadron rushed out to offer their assistance. But they paid a terrible price for this spontaneous act of kindness when a parachute mine landed nearby, Killing them all instantly.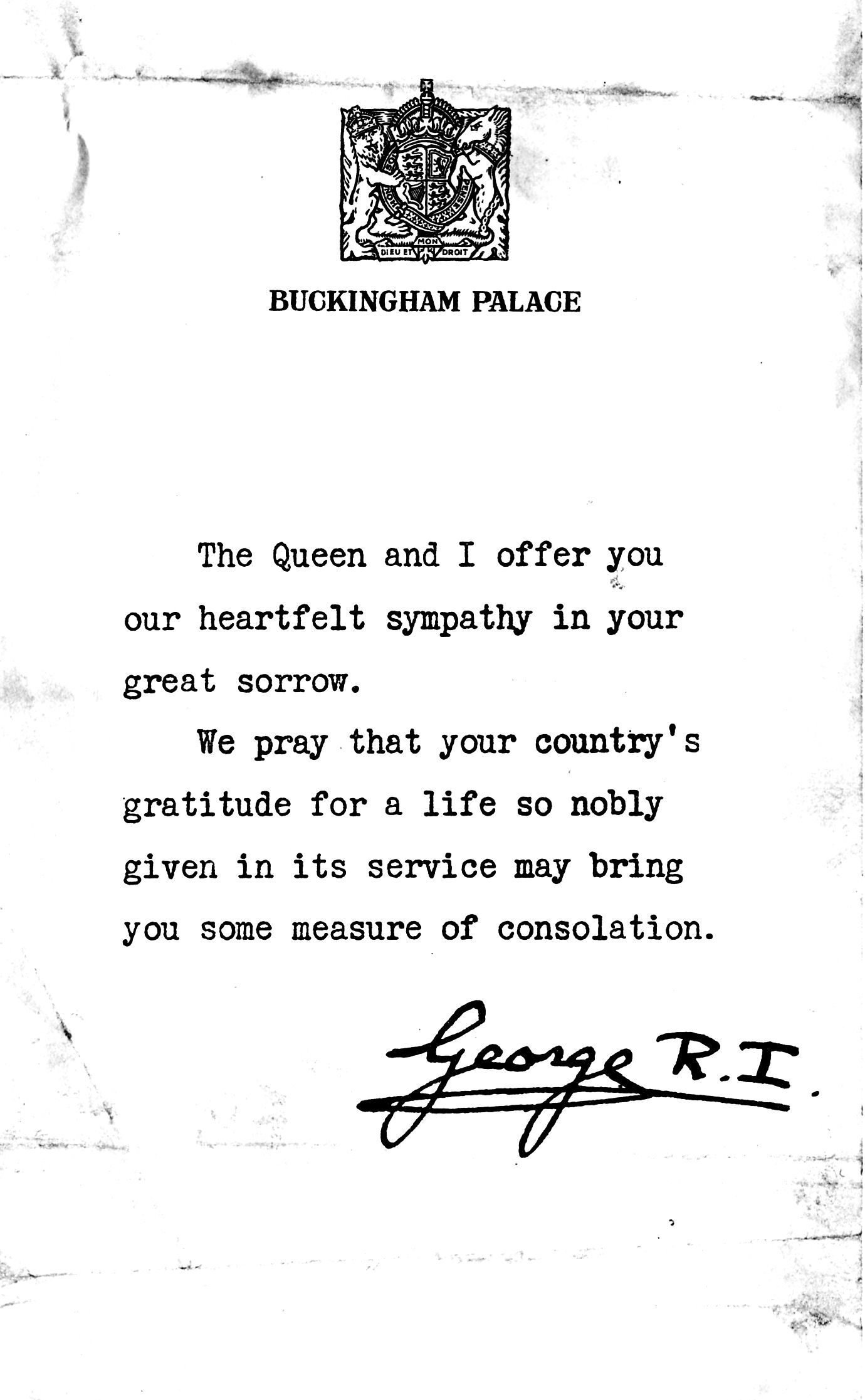 Letter from Palace to next of kin of McElerea, Gerald, 548268 Leading Aircraftman (copyrighted)
On 5th June 2011 at Gosport Cemetery, St Annes Road, a rededication service was held by the town to commemorate all those who
lost their lives in the German bombing of the Second World War at Gosport. This also commemorated the servicemen and women of the town
who died in these actions.
The Balloon Barrage Squadrons were to be found at the St Vincent Sports Ground during the war. This is opposite the St Vincent School. At the entrance of the
Sports Field is a plaque commemorating the loss of life of the men from 933 Squadron on the 12th August 1940.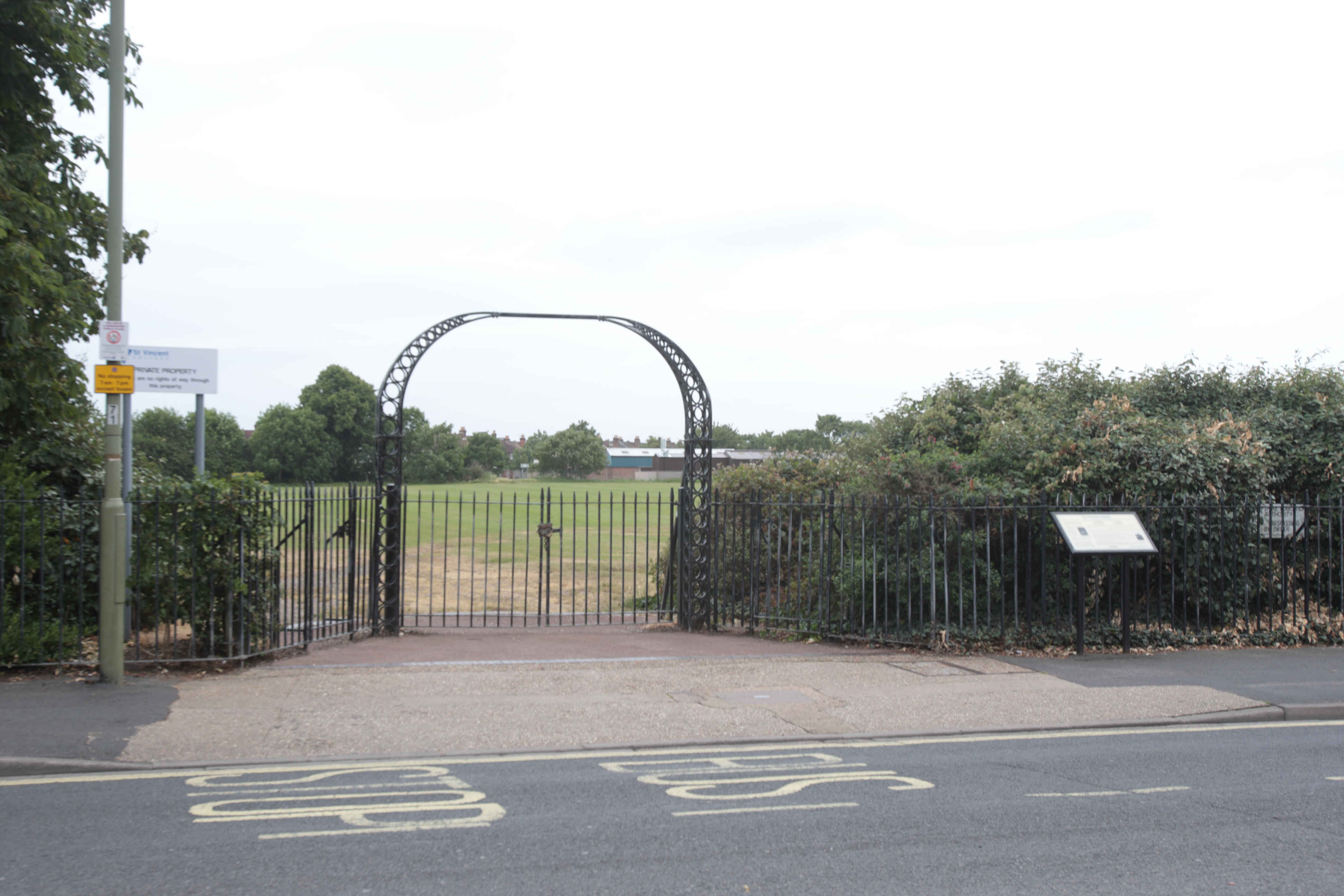 The Sports Field entrance with a display to the right hand sided detailing what took place here on the 12th August 1940
The Sports Field is in private hands and no access is possible but one can view the field from adjacent roads.

The Sports Field viewed from an adjacent road.